Discover more from NFT Review
NFT Review: A weekly review of the Non Fungible Token ecosystem
Over 2,000 subscribers
NFT Review 38 - Back to the Dark Age?
x2y2 vampire attack on OpenSea, Puma joins the action, Cryptopunk holder 'rugs' Sotheby's, and more
NFT Review is a weekly newsletter covering NFTs in the Web3 ecosystem on Polkadot's side of the woods. The newsletter is put together by Bruno Škvorc and gbaci.

For a more general overview of the Web3 ecosystem, consider subscribing to Dot Leap.

Looking for a primer on NFTs? This should be the last introduction you'll ever need.
---
Dear NFT enthusiast,
This week, the world was plunged back into the dark age of countries invading other countries. In light of that, it is difficult to act like everything is all rosy. Markets are down and fear is high. What really matters?
Humanity. At the center of our humanity is our freedom. Without it, we are animated ghosts. If Ukraine isn't free to be a sovereign nation, what does that say of their invaders?  
This isn't a political newsletter and so we do not claim to have all the facts of this issue. All we know is that the sovereignty of every individual/country must be protected/respected. Without this, we yield to a nightmare of powerful bullies weaponizing the state for their preferences.  
How does all of this relate to NFTs? What's the point of building a digital world when the physical one (and the values that hold it together) are under attack? In whatever way we can, we should remind ourselves what really matters–our humanity.
Sorry to take your mind to the dark corners of reality. Read on for the NFT news.
Thank you for reading and have a great week.
— NFT Review
---
📬 NFT News from Kusama & Polkadot
Karura's 'Bring Your Own Gas' feature now allows users to pay gas fees with $RMRK
Following an integration with Collab Land, Talisman announced that holders of the Spirit Key NFT can now link their Talisman wallet to access a special token-gated channel in its Discord.

RMTerra released a short film that highlights its partnership with RMRK to reforest the world by planting trees.

RMRK co-founder Yuri Petusko will be hosting a Q&A call on Tuesday for people who are developing RMRK 2.0 projects.

Singular Changelog 7 has been released, the last update before the biggest Singular update ever!! In this changelog:

New embedded charts by Web3Go

Per-account activity

Multi-chain reading of RMRK balances

Statemine clarification banner

Minor UI fixes

Firefly interviewed EJ, a professional illustrator and one of Singular's talented artists.

Yumi created a great thread on the DOs and DON'Ts for success on Singular.

ChainSafe created a UI to demo Filecoin-Substrate Bridge capabilities, utilizing RMRK to create NFTs.

Bit Country released a glimpse of its avatar customizer setup.
Damned Pirates Society posted some stats of their NFT-based game on Moonriver.
---
🗞 NFT News from Ethereum and Beyond
sartoshi, the founder of mfers, published an explainer covering the project's rise.
Drift is auctioning a never before seen Where My Vans Go piece through Sotheby's:
Sotheby's is also auctioning off one of the fabled editional claim cards to artist Robbie Barrat's AI Generated Nude Portrait #7, the work at the center of the "Lost Robbies" story.

The Axie DAO is growing:

We own
Axiedao.org
! Right now it redirects to
Axieinfinity.com
. The Axie DAO is growing quickly with over 15 team members so far across community, support, and engineering.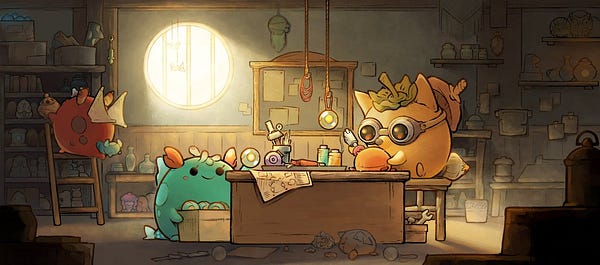 ---
That's all for this week, see you in the next edition! Got some links to share with us, artists to feature, NFTs to sell, jobs to promote, or events to popularize? Get in touch with Bruno or gbaci!