Discover more from NFT Review
NFT Review: A weekly review of the Non Fungible Token ecosystem
Over 2,000 subscribers
NFT Review #9: A Fascinating Future
D&G launch NFT collection, SuperRare introduce collector royalties, art meets architecture meets gaming in innovative NFT project, and more...
NFT Review is a weekly newsletter covering NFTs in the Web3 ecosystem on Polkadot's side of the woods. The newsletter is put together by Bruno Škvorc and gbaci.
For a more general overview of the Web3 ecosystem, consider subscribing to DotLeap.
Looking for a primer on NFTs? This should be the last introduction you'll ever need.
---
Dear NFT enthusiast,
It was another bright week for NFTs with more adoption by big brands and astronomical sales figures. But what most impressed us this week had nothing to do with huge sales or greater adoption.
What touched us deeper than all the gloss was a glimpse into an unfamiliar future but one that seems bright from our present vantage point. Showing us this vision was none other than Axie Infinity, the reigning financial champion of the crypto space, but not in the way you may have expected.
If you're curious to see what we saw and feel how we felt, watch the documentary below.
The fascinating thing about the documentary is getting to hear from the regular people whose lives have been changed by what most of us consider only as interesting headlines and cool updates. These include people who one would view as technologically challenged interacting with NFTs and DeFi because it's a viable alternative to a regular job. Isn't that crazy? It speaks to many things at the same time—inequality, the power of technology, and the ingenuity of humankind to name a few.
Imagine then what the future holds in a world where people can earn their monthly salaries by playing a mobile game. How many people will realize that they've always been talented gamers? In the documentary, you see an old couple who both play the game. I have never seen that in my life.
We admit, this fascinating future also scares us a bit because history has proven that every new technology that was supposed to save us ended up leaving us with new (and sometimes more serious) problems. But what else can we do? Our present demands changing and so we feel compelled to help build this fascinating future.
Thank you for reading and have a great week.
— NFT Review
---
👨🏼‍🎨  RMRK Artist Spotlight #8:  Erphan Malek and his Monuments
First, apologies for skipping the artist spotlight last week. But we're back baby!
In this week's episode of RAS, we interviewed Erphan Malek, one of the most talented artists we've met in the NFT space. Doubt us? Check out some of his works below.
We chatted about his foray into crypto and NFTs, his favorite work, creative process, and more. Read the interview here.
---
📬 NFT News from Kusama & Polkadot
Unique Network joined the #DigitalArt4Climate virtual designathon, an initiative that turns artwork into NFTs that can be collected and traded. This is intended to mobilize new resources in support of the UN Sustainable Development Goals and Action for Climate Empowerment.

IAAI - GloCha

@iaaiglocha

#DigitalArt4Climate Designathon – #Culture & #Technology 4 #ActionforClimateEmpowerment, 19–29 July 2021, JOIN: https://t.co/JEmMgNnxzp https://t.co/UlviqeqOce #NFTs #DigitalCollectibles #ClimateAction #UX_UI #Design #Crowdsourcing #All4Climate #ACE_AT https://t.co/1OlRZ4i7qK
Still on RMRK, they released more art teasers for their dual-art Kanaria NFTs. These are some of the most fascinating birds you will ever see.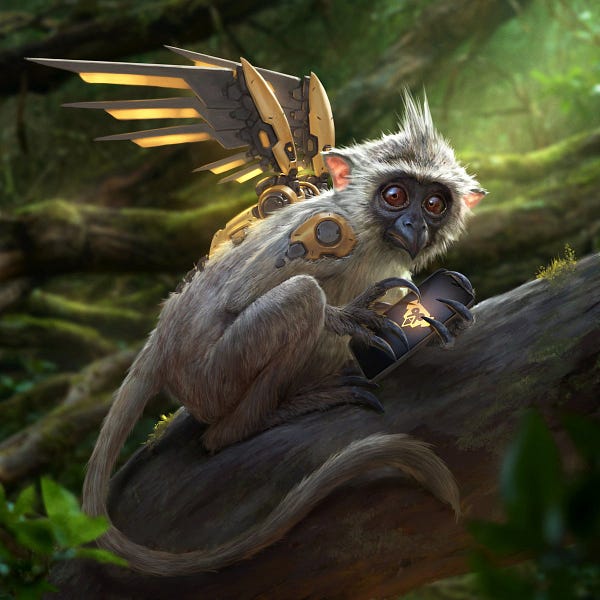 In case you've been curious about RMRK, Kanaria, and Singular, there's now a video to help you level up your knowledge. RMRK founder Bruno Škvorc hosted a crowdcast titled 'Introduction to RMRK's NFTs and the Singular Platform'. A replay can be found here.
---
🗞 NFT News from Ethereum and Beyond
Luxury brand Dolce & Gabbana will launch an NFT collection in partnership with the digital marketplace UNXD. The collection is called Genesi and will be promoted at Dolce & Gabbana's upcoming shows. 

Meebit #17522, a rare double-faced pig, sold for a jaw-dropping 1,000 ETH (~$1,819,520) last weekend.

Artist untitled, xyz released FORM FARM, a programmable crypto art piece and "game of architecture," on Async Art this week. The FARM has 25 collectible plots. Each plot comes with 15 form options that the owner can modify at any time. In order to successfully "farm" NFTs; plot owners must cooperate with their neighbors to align form-types (cubes, windows, staircases, etc.)
Cryptoart platform SuperRare introduced Collector Royalties. With this addition, collectors will be able to earn a royalty whenever a qualifying artwork is resold in the secondary market.

takenstheorem released the_coin, an experimental art project that tracks on-chain data visualization of Bitcoin's history.
Axie Infinity is launching an e-sports grants program to support the roll-out of their new dedicated e-sports server.
The Sandbox, a virtual world where players can play, build, own, and monetize their virtual experiences, sold a large 12 x 12 estate for 530,000 $SAND (~$280,000).

1,036 ETH (~$1,886,359) was raised in crowdfunding for Ethereum: The Infinite Garden, a new documentary film about Ethereum and its real-world applications. Scalar Capital's Linda Xie is helping to produce the film.
---
That's all for this week, see you in the next edition! Got some links to share with us, artists to feature, NFTs to sell, jobs to promote, or events to popularize? Get in touch with Bruno or gbaci!